Computational Modeling and Experimental Analysis
of Normal and Pathological Neural Rhythms
for Medical Applications & NeuroRobotics

Research topics
Neural oscillation and population synchrony at specific frequencies are ubiquitous in the central nervous system of animals and humans. Indeed, rhythms characterize the neural activity at every scale: (i) at the microscopic scale, subthreshold membrane potential of a neuron can oscillate up to 40 Hz and action potentials appear period- ically such as in the olfactory bulb; (ii) at a mesoscopic scale, neurons of inhibitory or excitatory populations fire together; (iii) at a macroscopic scale, brain areas located in both hemispheres show synchrony and brain waves can be observed between areas e.g., between the frontal lobe and the parietal lobe under general anesthesia. Rhythms can be found throughout the central nervous system e.g., between brain areas as well as in the spinal cord. As a consequence, rhythms are known to be involved in numerous brain functions such as perception and action (includ- ing inter-limb and inter-personal movement coordination), cognition (states of awakeness, memory consolidation…) and emotions. Excess or deficit in oscillation or synchrony could further relate to neurological disorders. Thus, it is important to study normal and pathological rhythmic activity to better understand Parkinson's disease, tremor, epilepsy… and propose neural interfaces for controlling the nervous system or enhancing functional recovery. Studying neural rhythms requires to build realistic models validated by experimental data recorded in humans, animals or robots.
What: Junior Professor of Neuroscience
Scope of the function:
https://www.eechesup-recherche.gouv.fr/cid156968/www.eechesup-recherche.gouv.fr/cid156968/www.eechesup-recherche.gouv.fr/cid156968/des-carrieres-plus-attractives-les- junior-professorships.html
The chair contains a reduction in service (64h) for 5 years and financial support.
The chair could be accompanied by funding for a thesis grant, a post-doctorate, or even a delegation to allow the laureate to progressively move from a 64-hour service to a 192-hour service. .
Where: University of Lorraine / LORIA Laboratory / NeuroRhythms team
When: start in November 2021
How: Send a motivated email with an attached CV and reference contacts to laurent.bougrain@loria.fr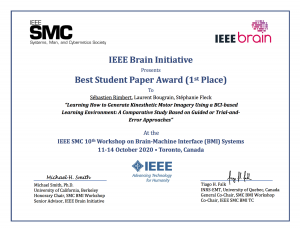 Congratulations to Sébastien Rimbert who received the award for best student paper from IEEE and the Brain initiative at Brain-Machine Interfaces workshop of the 2020 System Man and Cybernetic (SMC'20) conference!
You can read the article "Learning How to Generate Kinesthetic Motor Imagery Using a BCI-based Learning Environment: a Comparative Study Based on Guided or Trial-and-Error Approaches" by
Sébastien Rimbert, Laurent Bougrain and Stéphanie Fleck
here https://hal.inria.fr/hal-02920306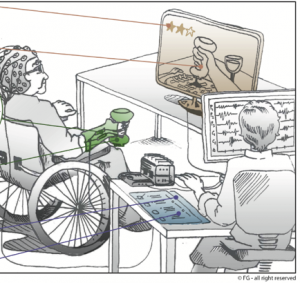 The GRASP-IT project aims to recover upper limb control improving the kinesthetic motor imagery (KMI) generation of post-stroke patients using a tangible and haptic interface within a gamified Brain-Computer Interface (BCI) training environment. (i) This innovative KMI-based BCI will integrate complementary modalities of interactions such as tangible and haptic interactions in a 3D printable flexible orthosis. We propose to design and test usability (including efficacy towards the stimulation of the motor cortex) and acceptability of this multimodal BCI. (ii) The GRASP-IT project proposes to design and integrate a gamified non-immersive virtual environment to interact with. This multimodal solution should provide a more meaningful, engaging and compelling stroke rehabilitation training program based on KMI production. (iii) In the end, the project will integrate and evaluate neurofeedbacks, within the gamified multimodal BCI in an ambitious clinical evaluation with 75 hemiplegic patients in 3 different rehabilitation centers in France. This 4-years project will take advantages of the leading interdisciplinary consortium combining expertise from 4 research teams (LORIA/Neurosys, UL/Perseus, Inria/Camin, Inria/Hybrid) and 3 centers or hospital department for physical medicine and rehabilitation (IRR/CMPR Lay St Christophe, CHU Rennes, CHU Toulouse). The GRASP-IT project represents a challenge for the industrial 3D printing field. The materials of the 3D printable orthosis, allowing the haptic-tangible interfaces integration, will come from a joint R & D work performed by the companies Alchimies and Open Edge.